Weft and Warp ( a documentary by Jean Claire Dy/work-in-progress)
Like the shuttle that in her hands deftly flies across her loom, Jenita Eko, a T'boli woman leader, has to weave her way through the weft and warp of daily living amid the threats to her and her community's survival during the pandemic and the government's anti-insurgency program.
A Ritual of Affliction (an experimental essay film by Jean Claire Dy)
This essay film explores the notion of liminality as a phase artists on standby lare caught in the betwixt and between during the pandemic. It plays with what anthropologist Victor Turner in his discussion on liminality that there are 4 degrees of liminal and one of this is he calls "ritual of affliction" during the a time of massive disease in a community. Among the 14th century Mindanawons, wearing a gold mask during rituals of disease and death was practiced.
Funded by the National Committee on Cinema of the National Commission for Culture and the Arts
(appeared as part of the omnibus screening of Eksena Cinema Quarantine 2022)
A HOUSE IN PIECES TRAILER
Winner: Golden Hercules Award at the Kasseler Dokfest (Germany) 2020, Best Documentary, Mimesis Documentary Film Festival (USA) 2021
Available through VOD at https://vimeo.com/ondemand/ahouseinpieces
Documentary: A HOUSE IN PIECES
Directors: Jean Claire Dy, Manuel Domes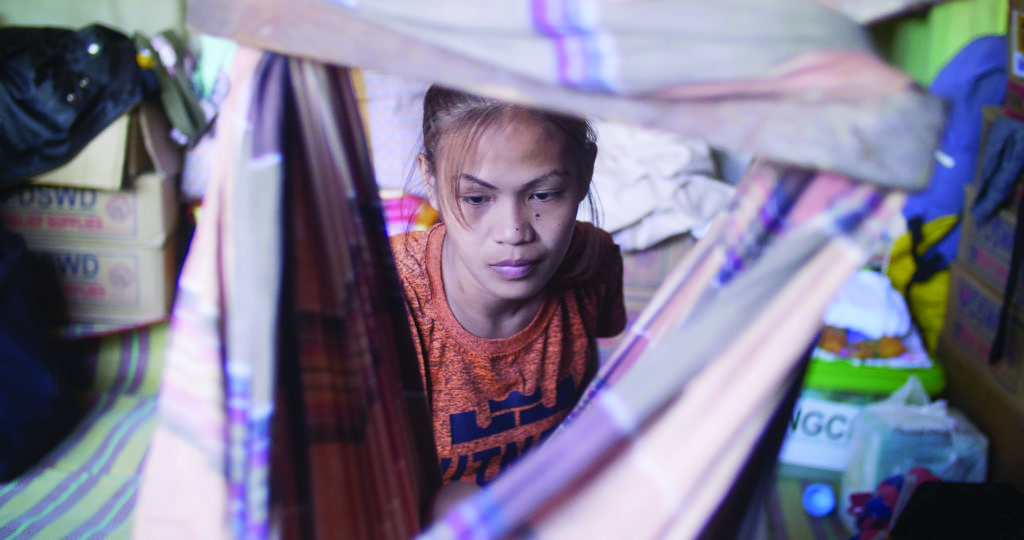 Trailer: https://youtu.be/ayBArZ5vGqA
Synopsis:
A war between the government and ISIS-affiliated jihadists in Marawi, Philippines, forced hundreds of thousands to flee from their homes. After the war, residents struggle to rebuild their homes and lives in a deformed city.
Displaced couple Yusop and Farhanna and their children yearn for freedom, income, and comfort after returning to their city. But even returning to normalcy is already a struggle. Nancy, a once-wealthy woman, has to cope with her loss of home in an evacuation shelter where she will have to remain for years. An anonymous driver with striking insights shuttles back and forth between places and stories around a city which will never be the same again.
The film accompanies its protagonists for two years through fear, worry, and hope, towards a new beginning on their long journey.
Long Form Feature: THE MADRASAH AS INTERVENTION VS VIOLENT EXTREMISM
This long-form piece was published on www.mindanews.com. Written by Stories Beyond's Jean Claire Dy after the first part of shooting House in Pieces in Iligan City. Read the entire article HERE.
Documentary: A MEMORY OF EMPIRE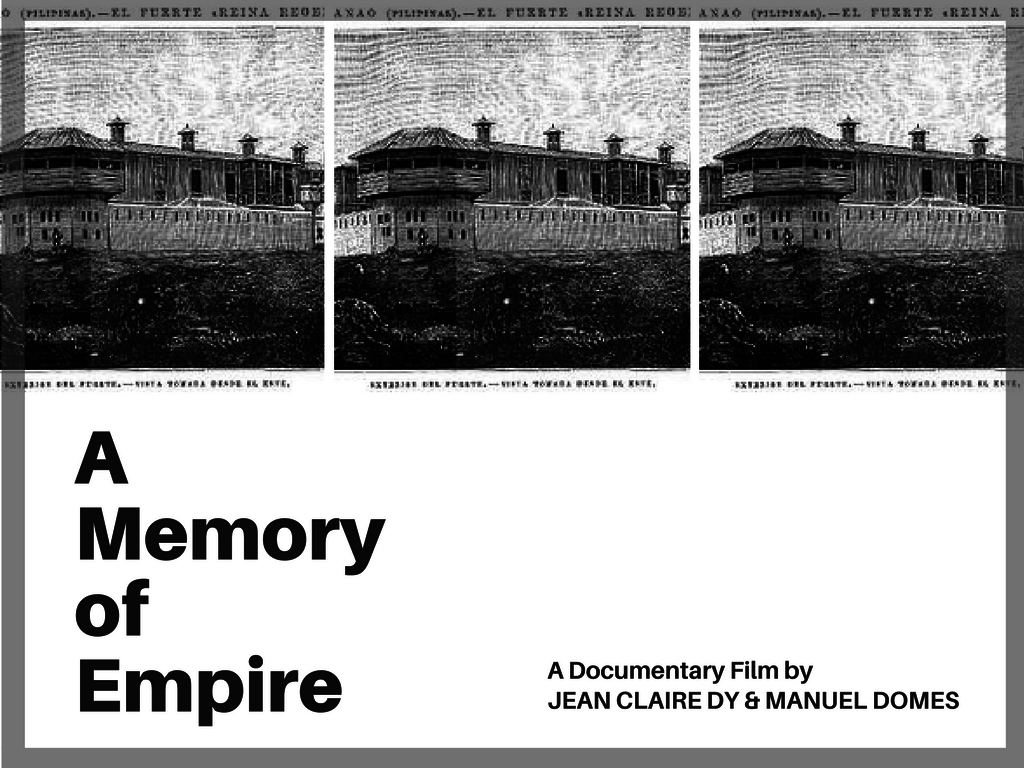 Directors: Jean Claire Dy, Manuel Domes
Trailer: ​https://vimeo.com/302759320
Synopsis:
Using the life story of Norma Limoso "Dipearli", a former teacher from Iloilo who is now in her 70s, as its backbone, A Memory of Empire unravels the complex and complicated history of the Mindanao conflict through a personal narrative.  In 1960, Norma became part of the state-sponsored resettlement from Panay towards Mindanao, the then Muslim-dominated "land of promise" in the Southern Philippines. She and her companions settled in the town Columbio in the former Empire Province of Cotabato, where traditional Muslim clans ruled over social and political life. At 23, Ms. Limoso married Datu "Boy" Dilangalen, a Muslim royal leader, without the approval of her Christian relatives in a Muslim rite deep in the mountains. Her husband would, later on, become influential in the founding of the Moro National Liberation Front, the first Muslim armed group in open rebellion against the Philippine government.
The influx of Christian settlers, like Norma Limoso, was one of the key reasons for the rebels to take up arms. Ilonggos from Panay in particular have been associated with land grabbing and violence perpetrated against Muslims by vigilante groups such as the ilaga.  At the outbreak of the war, believing her husband died after an encounter, Norma gave birth to her first daughter back in her hometown Iloilo, where she later re-married. Years after, a knock on her door brought the Memory of Empire back into her life.
Narrative Short: PAGLUBAD  (UNRAVEL)
Trailer: https://vimeo.com/227842695
Synopsis:
Ligaya, a filmmaker, stays with her uncle Primo in Iloilo, to finish a documentary film about her roots. Motivated by the need to understand why her family in Cotabato resists her plan to marry her Muslim boyfriend Malik, Ligaya is determined to find answers from her uncle. Malik is an orphan whose parents were killed in a fire during one of the massacres perpetrated by the Christian militia known as the ilaga during the war in the 1970s in Central Mindanao.
Ligaya seeks to find answers from her uncle about his past life in Mindanao during the tumultuous 1970s. Armed with her camera, she doggedly observes her uncle doing his rituals, practicing arnis martial art movements, persistently pushing him to answer the questions about the past. Primo, on the other hand, resists Ligaya's questions. When finally Primo agrees to a video-recorded interview, Ligaya is faced with the weight of the wartime secret she unwittingly unravels.
Written and Directed by Jean Claire Dy, Cinematography and editing by Manuel Domes, Musical Score by John Diagoras of The Good Friday Experiment
Documentary Short: PAGRARA SANG PATIPURON (WEAVING A CIRCLE)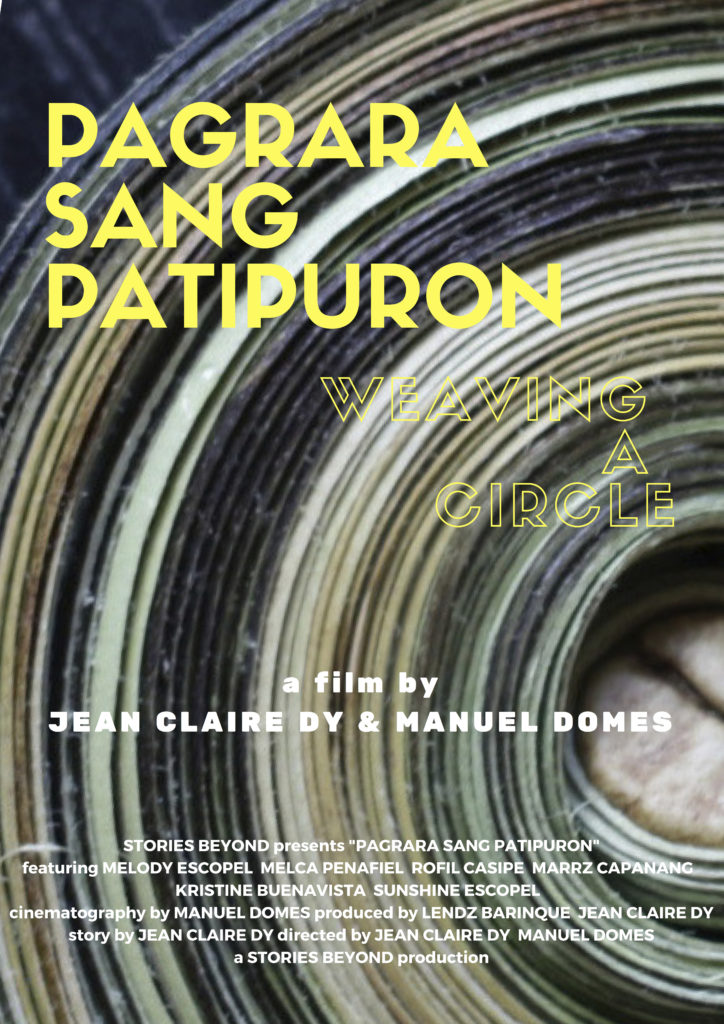 Directors: Jean Claire Dy, Manuel Domes
Producer: Lendz Barinuque, Jean Claire Dy
Synopsis:
Pagrara
Sang
Patipuron
follows a group of indigenous Aeta women weaving artists in Nagpana, a sitio up in the mountains of Barotac Viejo, Iloilo. The film explores their artistic processes and products, reflecting negotiations between tradition and modernity. The Nagpana community is home to weaving artists that traditionally make crafts (purses and bags) that answer to a saturated market of woven crafts. This circle of women weaving artists is going beyond the products the Aeta are known for, by weaving jewelry with designs inspired by their environment and the people they live with. For these women, to weave from the center, to weave a circle, is to weave a life confronting realities of lack and insecurities brought about by poverty. With the help of two young artist entrepreneurs in the community, the women were empowered to explore their artistic imagination and extend the limits of their design process in the hope of transcending their present realities. The Aeta are considered the first inhabitants of the Philippine archipelago, but they are also one of the most marginalized indigenous peoples in the country.
Nominated in the documentary category of the 2017 Sinag Maynila Film Festival.